Welcome to Our Service Department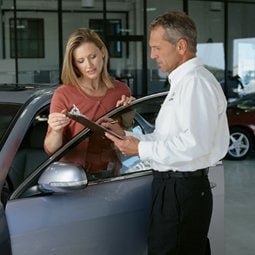 Take Care of All Your Car Needs at Your Parker Ford Service Center in Murray, KY 
To keep your vehicle in top form, it helps to have a team of professionals who are ready to assist when you need them most. At your Parker Ford Service Center, we prioritize our expert and efficient customer service to handle any Ford vehicle issues. 
Is your Ford in need of fine-tuning or fixing? Then stop by the dealership that the people of Murray, KY depend on, and we'll have your vehicle humming in no time. 
Find a Reliable Service Team at Parker Ford 
At Parker Ford, our team consists of factory-trained technicians who can pinpoint issues and develop solutions quickly. Our professionals are comfortable working with any Ford model, whether it be a truck or a SUV. You won't find another team like this in Mayfield or the surrounding area, so visit our Service Center and let our team handle your automotive needs.  
Receive Solutions of all Sizes for Your Vehicle  
We understand life is full of daily hiccups and occasional surprises, so your Parker Ford team is ready for anything. General services such as oil and tire changes are no sweat for our Ford-approved technicians. As for more complex issues, our team has years of experience and has seen it all. Things such as engine issues and brake replacements require knowledge of the models and parts to match, and our team has plenty of insight to go around.
Bring your vehicles from Hazel, KY, and our service team will welcome you in with open arms and rolled-up sleeves. No problem is too much for our professionals to solve.  
Enjoy a Quick and Convenient Process at Parker Ford  
Rushing between work and other activities, you may find it hard to fit vehicle maintenance into your schedule, so we've made things easy. Enter your appointment preferences online, and we'll work with you to find the right time for you to come in.  
If your vehicle's maintenance light is flashing or something feels off, then it's time to get your car serviced. Bring your Ford to the dealership that the people of Hardin trust, and our Parker Ford Service Center can restore your car to peak shape.